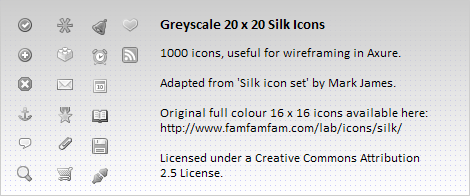 I really like Mark James's Silk Icons. Not only are they completely free, but they are pleasingly neutral and sit well on almost any page.
At Madgex, our design team has been using them in our Axure wireframes. The only trouble was that the full colour icons were too eye catching, and the 16×16 pixel size was awkward to snap onto the page grids.
So, I've batch converted them into greyscale, with a 20×20 canvas size. No big deal really, but I thought I'd post them here to save you the trouble. They are redistributed on the Creative Commons Attribution 2.5 License. This means you may use it for any purpose, and make any changes you like so long as you include a link back to famfamfam.com in your credits.
→ Download Greyscale Silk Icon Pack
Amendment – if these icons strike you as too detailed and polished for your wireframing needs, then check out the Konigi Wireframe Icons by Michael Angeles. Only $10 a pop.